Family Dental Office in Geneva, IL, All About You Dental Care, participated in providing Wellness Fair dental exams at Greenfields of Geneva for the 4th year on 05/15/2019. Dr. Stephen Lavrisa and his team provided complimentary dental exams and oral cancer screenings to attendees of the health fair.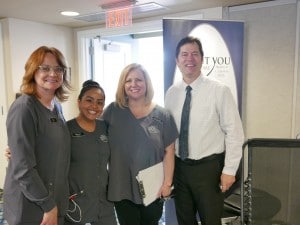 Geriatric healthcare is such an important topic for Dr. Lavrisa. Through the years he had found that so many seniors tend to neglect their oral health. Once individuals relocate to a senior living facility.  There seem to be a variety of reasons; living in a location far from their previous dentist, transportation issues, memory lapses and sometimes financial concerns.  When you don't take care of your oral health it can cause multiple other health issues to worsen.  By traveling to the senior facilities to provide complimentary dental exams for its residents and visitors, Dr. Lavrisa is making life a little bit easier.  Dr. Lavrisa reminds the residents that they need to get in and have any concerns checked out by their dentist.
Complimentary Dental Exams
All About You Dental Care attends the Wellness Fair at Greenfield's of Geneva and the Holmstad in Batavia annually.  All exams are complimentary regardless on if you are a patient.  In addition to these wellness fairs, we also make other visits to facilities simply to provide dental exams at no charge for the residents.
Senior citizens that take better care of their oral health traditionally have less health issues than those that don't.  Therefore as a reminder, good oral health is linked with better diabetes control, lowered heart complications and many other health benefits.
If you are interested in having a dental exam call, All About You Dental Care, in Geneva, IL, to schedule an appointment at (630) 262-9696. Their office is conveniently located just north of Delnor Hospital at 2631 Williamsburg Ave., Suite 103, Geneva, IL 60134.